The word "sari" refers to a "strip of cloth" . They are the symbols of national pride. Saree reveals the personality of the person wearing it. It is worn in almost all occasions in India and even in day-to-day work.
Saree is a mark of culture and tradition of our country and Surat is a hub of wholesale saree manufacturer in India.
This attire is loved by everyone as it has unmatched elegance. India is a diverse country with various cultures , traditions and also various attire in which saree is one of the most loved attire.
The tradition of wearing saree has been found from the time of sacred epics Ramayana and Mahabharata. Every state has its unique style of saree.
History of saree
The history of saree has also been traced from sacred epics Ramayana and Mahabharata.
Banarasi silk saree from Uttar Pradesh
In every Indian woman's wardrobe you will find a Banarasi silk saree wholesale. These sarees come with varieties of colours.
A good Banarasi saree wholesale starts with the range of 2000. These sarees are hand woven in Varanasi and UP.
The sarees can be worn in wedding functions of festivals such as Diwali , Holi, Durga Puja etc.
The kanjivaram silk saree from Tamil Nadu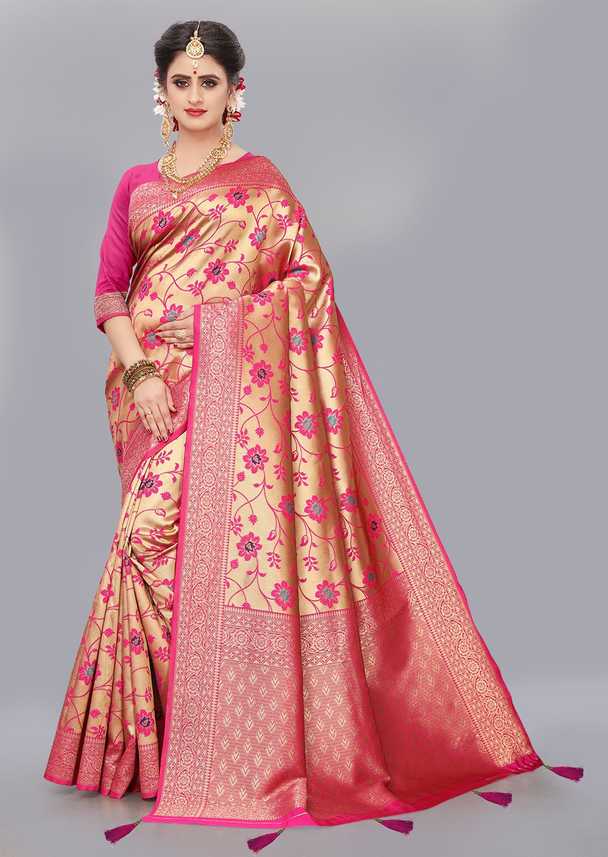 The kanjeevaram silk saree has marvelous colours. It is famous for its design on the border which is temple patterned.
The sarees have also become popular in other parts of India. These are the bridal sarees of South India. It comes under the range of 2000 to 20000 thousand.
Kasavu saree from Kerala Kasavu saree also known as 'Mundum Nereytham'.
It is an off white saree with a golden border. It is a simple iconic cotton saree. This saree is the symbol of simplicity, elegance and tradition. It is perfect for any kind of day events.
Paithani silk saree from Maharashtra
It is a traditional saree of Maharashtra. This saree has an attractive blend of nature and design. Paithani silk saree is found in every woman's wardrobe who is fond of experimenting with sarees. This saree looks perfect in any traditional function or parties.
Chanderi Saree From Madhya Pradesh
Made with lightweight fabric and pretty borders, this saree is the mixture of simplicity and style. This saree is found in different patterns and marvelous colours. The saree will look perfect with simple gold jewellery and can be worn daily.
Printed Sarees From boring plain saree printed saree gives a refreshing change. Hand printed saree gives Desi Diva look.
There are different types of prints Kalamkari Prints, Bandhani prints, Batik, Dabu, Patola, Foil Prints and the easily available computer printed sarees.
Net saree
In net saree only pallu is made from net which makes a very glamorous look for the wearer. It comes with various beautiful colours. The net saree with embroidered blouse looks perfect and can be worn in any parties.
Designer saree
Designer saree is surely found in any saree lover's wardrobe. It is made from luxurious high quality materials like chiffon, georgette, net, velvet, satin, tissue and organza. It can be worn in any high glamour occasions, wedding reception, parties,etc. if you love material then you can read more about types of saree materials for designer sarees.
Significance of color of a saree
Each saree colour has a meaning behind it.
Red colour – It is a celebratory colour. Usually worn in special occasions like weddings, festivals, etc. It denotes love , passion, courage.
Due to the colour it draws attention towards the saree wearer.Red colour is also associated with maa Durga, this is the reason why devotees wear red saree during prayer ritual.
Saffron colour – Hindus consider this as the most sacred colour as holy people have adopted it. It represents purity.
Yellow colour – This colour is usually worn during daytime. Yellow colour perks up the mood of everyone.This colour suits the perfect blouse with dark colour.
Blue colour – Two India's favourite deities Lord Ram and Krishna are depicted in blue colour as blue represents masculinity and strength of character.Blue is a favorite region-wide among saree wearers and designers alike.
Pink colour – It is usually associated with romance and love.It suits perfectly with embroidered dark colour blouses.
Green colour – Sarees with green colour denote prosperity.In hindu tradition females wear green saree in the month of sawan while worshipping lord shiva.
Black colour – Sarees with black colour represents boldness and power.
It is most suitable for formal meetings and patties. Purple colour-In Hinduism purple denotes wisdom and union. Saree with purple colour looks elegant if worn with designer blouse.
Conclusion
The color of the saree represents beliefs of the people. Wearing a saree results in spiritual healing and reducing the distress caused by the negative energies.