It is not incorrect to state that the fashion industry is dominated by 80 percent of the items in the league of fashion and daily wear for women. Every season, there is a new trendy combo option for women that offers an easy carry option as well as quality to enhance their beauty. 
As the world changes, the combining companion for women's suits and kurtis, pyjamas with different designs, is now a way old fashion as a trendy and different set of combination offer available as leggings are the new comfortable way for women. The unique colour combination with elastic-based fittings and stretchable wardrobe category is the best-rated quality of these leggings. 
Pajamas with uncomfortably tight fittings must be altered, or we must purchase another to match the designer Kurti or top. Leggings do not follow the same trend because a stretchy garment fits best with no complicated ways of adjusting it. Leggings can be combined with various kurtis and tops for a perfect fit; therefore, choosing Leggings is an efficient and wise decision.
You are rushing to buy the Kurtis combination after reading its quality; simply look at the best available options as Leggings in the list to choose the best.
Here is a list of the top selling leggings brands in India.
Global Desi Women's Leggings
Global Desi, one of the best-rated brands for Leggings for its garment quality and lack of colour release, proudly claims to be the exclusive brand for women's wardrobes. The leggings are made from 95 percent cotton and 5 percent spandex and can be washed separately in cold water. Full length multicolor slim fit leggings are available in a variety of colours.
Price range: 299 to 599 
Classic Culture Women's Lycra Cotton Ankle Leggings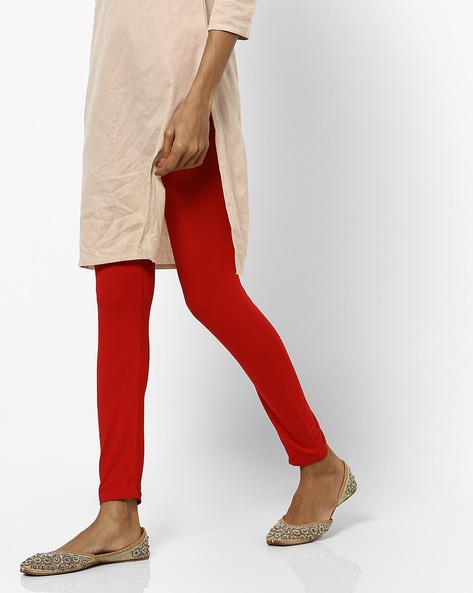 The low-cost leggings come in a variety of sizes and are made of 4-way stretchable cotton lycra and high-quality organic washed fabrics with no colour problems guaranteed. The various styles of leggings available are classified as Ankle, Length, Closure, and Elastic Type. The fabric contains 5% cotton and 5% Lycra. Other high-quality features include perfect body fit, skin-friendly fabrics, and high-quality stitching.
Price range: 299 to 599
Fash Glam Premium Ankle Length Leggings for Women
The brand provides pure cotton fabric leggings that do not have a harsh reaction on the skin and come in a variety of sizes ranging from free size to 37 inches in length. The various colour fabrics come in sizes ranging from 24 to 34 inches, and online customers have given the leggings 4.3 stars out of 5 for their quality and trendy options.
Price range: 499 to 999
Lux Lyra Women's Churidar Leggings
Lux is one of the best manufacturer brands in India, offering a wide range of garment options such as inners and undergarments for both men and women. The fabric of the Leggings is composed of 95% cotton and 5% spandex, and the size of the Leggings with Lux tag is available in free size. Lux is one of the few companies in India that sells Indian Churidar leggings under the brand Sanwara Fashions (Authorized online Selling Partner for Lux Lyra Brand).
Price range: 599 to 999
Krystle Slim Jit Jeggings for Women
Jeggings are a new range of upgraded leggings that are available to wear for Gyming and exercises. The Krystle wears range offers Polyester and Spandex as the fabrics for the Jeggings, which are machine washable and come in a variety of colours. The women's leggings are ideal for girls and are also ideal for partying, clubbing, errands, and shopping. The Jeggings Denim Jeans style is available as stylish print leggings with a denim wash and real pockets.
Price range: 275 to 799
MSS Wings Women's Leggings
MSS Wings are the only Legging brand available at the national level in various metro cities, and the material quality boasts as the MSS Wings are pure cotton. The skinny fit leggings are available in a series of skinny fits, and the leggings' closure type is Elastic, making them ideal for casual wear. The brand is available for purchase at leading fashion websites as well as online shopping portals.
Price range: 399 to 699
Taran Fashion Women's Viscose Leggings 
Taran is a leading designer primarily for women's wardrobes; the special combo pack of Taran Fashion Women's Viscose Leggings is available in 6 different colour options with free size and waist options ranging from 28 to hip 40″ and length 42″. The special flower set of design is available in the Indian market with ankle touch.
Price range: 249 to 849
Devil Women Slim Fit Jeans Leggings
The denim design appeared to be Leggings are skin-friendly and come in a variety of price points and styles. It is possible to purchase a pattern that is both comfortable to wear and damage affected.
Price range: 499 to 899
Aashish Fabrics Cotton Lycra Women Leggings Pack of 10
The 150 GSM Cotton fabric is available with a Lycra mix, and the leggings come in sizes ranging from S to Free Size. The set of ten leggings is available in a variety of colour combinations and waist sizes ranging from 26 to 56 inches.
Price range: 1999 to 2999
Women's Cotton Leggings by Sikhi Sewa
The Sikhi Sewa Women Cotton range is the best available option in the series of women's leggings. The 145 GSM Mix Cotton Fabric is available in Full-Length Leggings and Churidar Leggings with a Lycra mix. The fit to waits range is available in sizes ranging from 26 to 34 inches.
Price range: 399 to 899
Leggings and jeggings are made from different materials.
Moving on, Jeggings are typically made of a softer material when compared to leggings, which are skin tight stretchy denim. Leggings have the appearance of pants, as well as a button, a zip, and, in some cases, genuine pockets. The front is designed to be elasticized.
Leggings come in a variety of colours and textures. They can be made of polyester, Lycra, nylon, cotton, and other materials. During the winter, some people prefer acrylic stockings, while others prefer woollen ones. There are also those who would prefer to wear cowhide stockings.
Leggings come in a variety of colours, but because they are stockings that resemble skin tight pants, they typically come in pants hues and designs, for example, blurred, blue, dark, torn, and so on. They are completely agreeable, as well as popular, due to their tight fit.
There are numerous distinctions between leggings and jeggings. However, both make the other look very attractive. It is necessary to select the appropriate brand and quality of leggings and jeggings and to wear them properly.